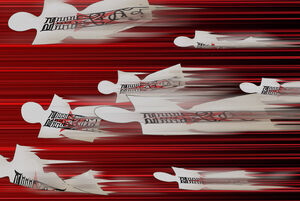 Shikigami (式神 shikigami) is a multi-purpose type of magic used by the Onmyouji.
Description
The arts of shikigami involves using one own's magical power to manipulate the shikigami, invisible spirits in the environment, and make them abide by the Onmyouji's will. Carefully crafted talismans are used to enable temporary materialization of the spirits. Shikigami can be used for offense, defense, scouting, reinforcing, manipulation and even giving life to objects, though the main purpose of shikigami is demon exorcism. What can be achieved through the use of shikikami depends on the skills of the Onmoyuji. If the evoker is well introduced and has lots of experience, his Shiki can possess animals and even people and manipulate them. But if the evoker is careless, his shikigami may get out of control in time, gaining its own will and consciousness. In this case the shikigami will raid its own master and kill him in revenge.
List of spells
Trivia
Ad blocker interference detected!
Wikia is a free-to-use site that makes money from advertising. We have a modified experience for viewers using ad blockers

Wikia is not accessible if you've made further modifications. Remove the custom ad blocker rule(s) and the page will load as expected.